Makeup storage 101: What are the best ideas for makeup holders and organizers? In this article, I'll share some of my favorite ideas on organizing your makeup, plus review some of the best new products.
Makeup Storage: What are the Best Holder & Organizer Ideas?
The main idea behind makeup storage and organization is to find the balance between form and function. Makeup in particular is a grooming product, and often the beginning of our daily routine.
It can be frustrating, to say the least, to waste time digging through a pile of products to find that particular eyeliner pencil – and worse still, to discover a mess of something that has come open and spilled its contents all over everything else.
Having your makeup under control – everything you need in a perfect spot and easy to find – will save you so much hassle and make your mornings that much more pleasant.
Organizing your makeup will also save you money. Makeup itself is an investment, and the higher quality of your products, the more money they represent. Keeping them properly stored will extend their lifetime and prevent damage due to water, contamination, or spillage.
Good makeup storage ideas will also prevent duplicates in your collection. How many times have you replaced a product you couldn't find – only to later discover the original beneath a pile of foundation jars?
It's clear that makeup organization is essential in terms of keeping your products nice and reducing your stress. But there's a final reason to consider as well, and that is joy.
Makeup is about beauty and enhancing our natural features to put our best face forward in the world. When you start the day by putting on makeup, you are preparing to put your best face forward.
With this in mind, I believe in the idea that makeup storage should be aesthetically pleasing, and should present your makeup in the best way possible.
Your Makeup Storage Ideas Should Meet These Needs:
They must keep your makeup dry and clean
They must provide easy access to your makeup – and good visibility as well
They must meet the needs of the makeup products and tools you use
They must be user-friendly – not tippy, flimsy, cumbersome, or awkward.
Makeup Organization: Evaluate the Storage Ideas That are Right for You
But in order to make sure you're getting what you need, let's first evaluate the right makeup organization and storage ideas for you and your lifestyle.
There is a broad spectrum of makeup use, and your makeup holders should reflect the types – and volume – of products you use. If your makeup use is minimal, you might be able to tuck it all into a drawer. If you own a larger amount of makeup, you'll want to look for more adequate storage. And the types of makeup you're drawn to will make a difference, as well.
For example, a collection of Chanel eyeshadow palettes begs for a sleek and elegant holder; equally valid, a handful of Bonne Bell lipgloss tubes would likely be right at home in a small, pretty wicker basket.
Of course, there are your physical needs to consider as well. If you live in a tiny apartment, you will likely be looking for compact makeup storage ideas. If you live in a larger home with a beautiful bathroom, you might be looking for drawer storage but also something elegant to sit on your marble countertop.
If you regularly take your makeup out and about, your best storage idea might be a portable makeup holder. And of course, budget plays into all your options as well.
With your needs and your makeup in mind, let's take a look at five ideas to help organize your makeup and the types of products that will help you do this.
---
---
A Tried and Tested Makeup Storage Idea: Acrylic Makeup Holders
One of the best ideas in makeup organization is the simple acrylic holder. There are many varieties of this type of storage product – a clear acrylic container, with plenty of small divided spaces, which may vary in height to hold products from lipstick to blush brushes.
The benefits of acrylic holders are their clarity and convenience – you can see your supplies and keep them separated. This one offers 15 compartments designed to hold eye shadows, compacts, nail polish, brushes, and more. It is easy to see, and easy to clean – and your makeup will look great in it.
Consider an acrylic holder like this if your makeup collection consists of a variety of products, without large compacts, but be warned, if you own a large amount of makeup, you may be looking for something larger.
Storage Drawer Dividers: A Simple Idea for Basic Makeup Organization
Sometimes the simplest solution is the best – and if you're a minimalist, then this makeup storage idea might be the best for you. Borrow a functional idea from the kitchen and pick up one of these drawer dividers.
They're designed to hold a wide variety of products in the kitchen, so why not in the cosmetics department? Brushes, long pencils, and tools like eyelash curlers will fit nicely in the longer compartments – and smaller products will distribute neatly in the others.
This product wins big in the 'neat and clean' category. The metal mesh is a brilliant idea for the storage of makeup and brushes, which often produce a powdery mess.
With a metal organizer like this, you need only lift the whole thing out of the drawer in order to clean up. Also, using this as a makeup holder allows you to store your products out of sight – and off the countertop.
If you're considering this route, be sure to measure your drawer first – sometimes bathroom drawers are smaller than kitchen drawers – although, in our house, this divider fits perfectly in the bathroom drawer.
Idea #3 For a Makeup Organizer: Hang It Up!
Maximizing vertical space is always a great idea, especially if your living space is compact. Here's another makeup storage idea borrowed from another area in the house.
Hanging organizers like this one may have been designed for jewelry storage, but they also make a quick job of makeup storage – the idea being that you hang it up close to where you apply your cosmetics, and tuck your supplies into all the little pockets.
This is perfect for a small bathroom, and it's even portable if you need to move your supplies around the house. It keeps everything very visible and easily accessed. And of course, you can also use this to store pieces of jewelry along with your makeup.
Take Your Makeup on the Go: Portable Makeup Organizers are a Great Idea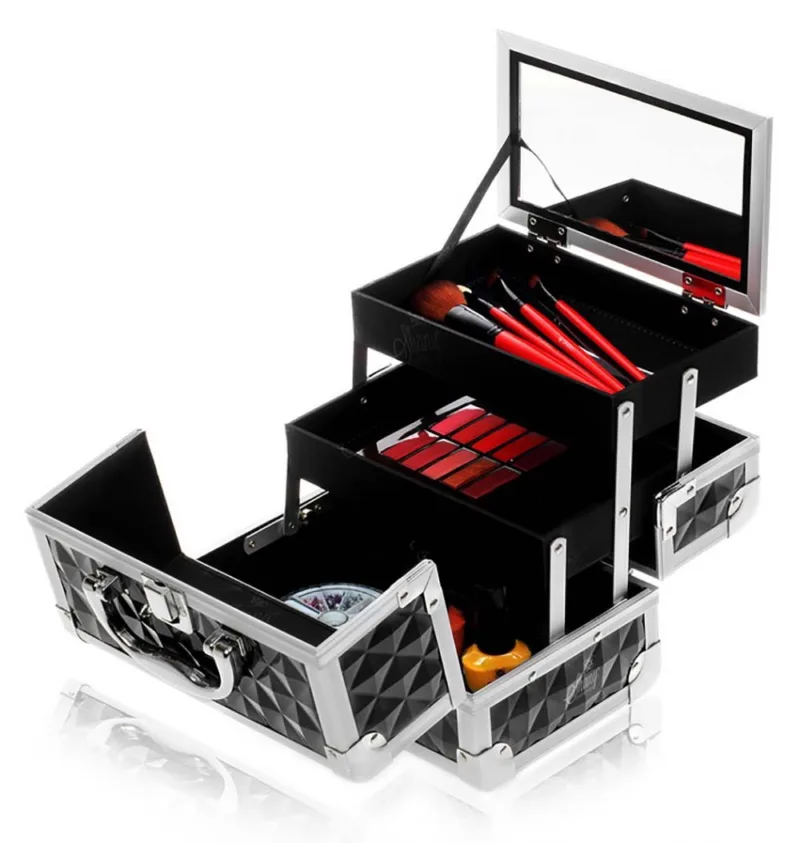 If you like to take your makeup places, consider a hardshell makeup case like this one by SHANY. This type of storage is called a 'train case' and is designed to safely hold and separate your makeup while you're on the move.
Cases like this usually have many tiers inside that fold out upon opening, making for easy makeup organization. They also have unique features – such as the ability to be locked, which can be handy.
The exterior is strong and resists heat, keeping your makeup cool when you're traveling on hot days. Easy cleaning is always a priority for me when it comes to makeup storage, and this case wipes out with little trouble. SHANY offers a wide variety of colors and patterns – there's one for every taste.
This is a great idea for makeup storage if you want to keep your supplies organized and protected on the go.
The Ultimate Makeup Storage Idea: Elegance and Function to the Max
If you treasure your large makeup collection, this is the product you want. Tall and stunning, this crystal clear acrylic piece offers seven drawers worth of makeup organization space – and does it with style.
The drawers are not overly deep, making this a great idea for a makeup organizer – you don't want your products rolling around at the back of a deep drawer. Each drawer can be removed from the unit, which is handy when you're grabbing a few items at once.
And best of all, it will look amazing in your bathroom or dressing room. Providing the ultimate marriage of form and function, this piece is well worth the investment to provide an elegant home for your valuable makeup collection.
I hope this has been helpful in evaluating what type of makeup storage ideas are best for your needs. When you're finished getting all your pretty products sorted, I guarantee you will feel thrilled with the results.
If you've found any unique ideas that work for your makeup organization, I'd love to hear about them! Feel free to share – who knows, it might be the perfect idea for someone else as well.