How to organize your kitchen. In this article I'll teach you easy kitchen arrangement; I'll share 5
great organization
and storage ideas and review some of the newest products.
Kitchen Organization 101: Great Storage and Organization Ideas
Of all the rooms in the home, the kitchen gets the most use. Whether or not you enjoy cooking, chances are you spend a lot of time there. There's nothing more frustrating than an inefficient kitchen; that's why kitchen organization should be a top priority in the modern home.
Since keeping my sanity is a topic near and dear to my heart, and probably is to yours too, I thought I would share some of the key kitchen organization and storage ideas I've learned, that have made our family's kitchen a much more pleasant and functional space.
I'll share 5 of my favorite organization ideas for the kitchen, a handy acronym to help you get through the task of organizing your own kitchen, and some of the best kitchen storage ideas I've found too – all in the quest of helping you organize your own kitchen.
So, here we go!
Kitchen Organization Bliss!
An Overview of Kitchen Organization 101: E.A.T.
First of all, the primary goal in the kitchen should be to keep it clean and safe for food preparation.
Modern kitchens are equipped with everything we need to do this easily; but often this results in overflowing cabinets and cluttered countertops, which makes it much more difficult to cook, clean, or locate what we need. Paring down the clutter is the first step in your kitchen organization journey.
In organizing my own kitchen, I came up with a handy acronym I'll share with you:
E: Eliminate extra clutter and unnecessary items
A: Assign a logical home for things (based on workflow in the kitchen)
T: Tools help corral the chaos
Step One in Kitchen Organization 101: Eliminate!
Before anything else, the first step in how to organize your kitchen is to eliminate: clear out the clutter. Go through each cabinet and drawer, one at a time, pull the contents out, and set them on the kitchen table or another surface. Throw out anything that is broken or expired.
Donate anything that is still usable but that you don't use. Try to reduce the number of kitchen utensils and appliances you own, based on what you realistically use.
For example, do you really need a garlic press when your hand-held chopper does the trick – and has multiple other uses for you?
Your goal should be to reduce the items you use multiple times a week, and that have multiple purposes. Once you've purged out the non-essentials, you can easily see the supplies you have and get a real idea of your kitchen storage needs.
As you're going through each drawer and cabinet, it's a great idea to have some hot soapy water and clean rags handy. Giving each space a quick wipe-down while it's empty will go a long way toward your kitchen organization's mission.
Also, do what you can to clear your countertops. In my own quest for kitchen organization, I figured out early on that the less was on my counters, the cleaner and fresher my kitchen felt.
Remember, if you've cleared out the non-essentials from your kitchen drawers and cabinets, you will likely have some extra space in which to organize your kitchen items such as toasters, blenders, and so on that are commonly kept on countertops.
In the end goal of complete kitchen organization, the idea is that the less is on the counters, the easier it is to keep them clean, to cook and prepare food efficiently, and to have easy access to everything you need.
Now that we've cleared out the clutter and your kitchen are ready for a fresh start, you're probably feeling much better about the kitchen already! You're ready to move on.
Liberating Storage Ideas for Your Kitchen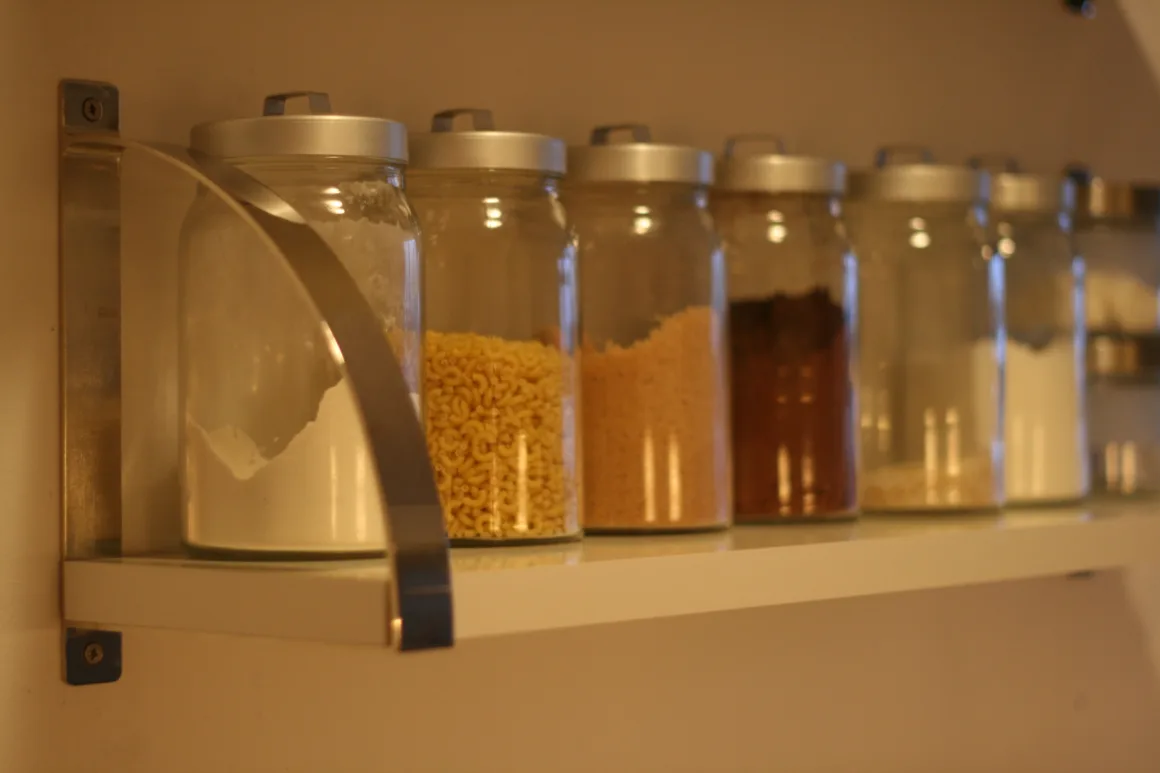 Step Two in Kitchen Organization: Assign a Logical Home
Every kitchen and every family is different, and you are the best judge of how you use your kitchen. For this step, consider your workflow and how you process tasks in the kitchen.
Optimal kitchen organization begins with taking a look at the tasks you do in your kitchen and where the best place to do them is. Then, put things in the area you'll use them.
Do you bake a lot? Figure out the best counter area for baking, and try to place your baking supplies within easy reach.
For food prep, choose the most likely area and try to find a home for your cutting boards and knives close by. Of course, this does not always work out 100% perfectly but do your best to find logical homes for things and you will save yourself footwork in the long run.
At the top of the list of kitchen organization and storage ideas is efficiency; organizing your kitchen hinges on this.
Step Three in Kitchen Organizing 101: Use TOOLS to Corral The Chaos!
Since the kitchen is home to a variety of items of all shapes and sizes, keeping each cabinet and drawer in order is essential.
How do we do this? With the help of a few tools. Few things are as frustrating in the kitchen as having to excavate through fifteen utensils before locating the ladle you need.
Or having to move three baking sheets, a cutting board, and a pot lid to get to the roasting pan you need at the bottom of the stack.
The solution to all these issues is to install thoughtful kitchen organization tools to help contain these items. This is an issue where a little help goes a long way; the time and frustration this type of kitchen storage saves you? Priceless.
Here are the five most helpful storage ideas from my own kitchen organization project.
Kitchen Organization Ideas Start in Your Drawers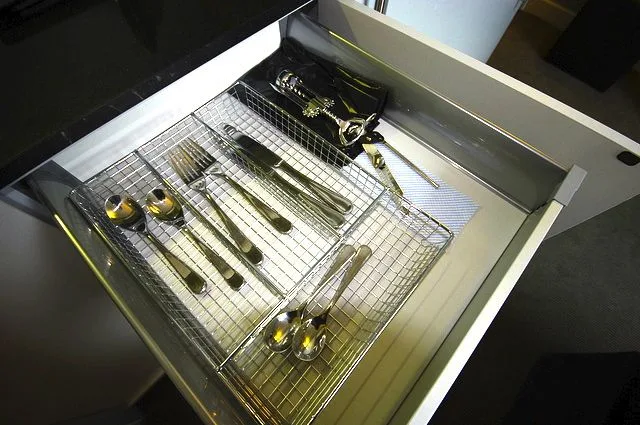 Er… your kitchen drawers, that is. Drawers themselves are efficient kitchen storage ideas – but how we arrange them is key. I love drawer organizers for this purpose – essentially trays with dividers that sit inside the drawer and provide some separation for the items within.
But not all dividers are created equal!
There are many on the market that expand, contract, or have re-configurable components; however, these can be cumbersome and the sizes can be awkward. The wire mesh type, such as this one by Copco, is by far the best, in my opinion.
First of all, they look sharp.
Second, they serve the purpose: dividing a large space into smaller spaces to accommodate a number of items.
And third, the ultimate bonus – unlike most drawer organizers, these do not collect crumbs and debris under the utensils, which can really be a pain to clean.
Simply lift the wire organizer out of the drawer and cleaning up is easy. These come in different sizes – some more suited to cutlery, some to larger utensils. When it comes to kitchen organization, I recommend them highly.
Take Your Kitchen Organization Vertically!
Vertical space is often underused inside a kitchen cabinet.
Finding storage ideas in the kitchen for large flat items, such as cutting boards, baking pans, or muffin tins, can be a challenge – often they end up stacked up on top of each other, which can be really annoying when you need the one on the bottom.
A vertical divider like this one, by DecoBros, eliminates this frustration by allowing these items to stand vertically, making them much easier to access. Again – so simple, but so brilliant.
Cut Out The Knife Block!
My Third Tip for Kitchen Organization: Use Wall Space!
Again, wall space is vertical and often underused. Many items typically stored on the counter or in a drawer can easily be relocated to wallpaper towels, for example, and knives.
Every kitchen has a collection of knives, and I used to keep mine in a knife block on the counter – which was clunky and soaked up a chunk of counter space.
One of the best kitchen storage ideas: is wall-mounted knife racks! This one by MIU is the perfect combination of form and function -sleek and beautiful, it provides magnetic storage for your entire knife collection.
Easily installed with a couple of screws, the MIU stainless knife rack is the ideal way to free up counter space as well as drawer space – and keeps your knives easy to grab when you are ready to chop.
This is one of my favorite kitchen organization ideas.
Better Storage Ideas for Under-The-Sink Racks!
Most of us have seen examples of a shelf that can be set up under the kitchen sink, providing storage space around the pipes and sink. I used to own a cheap plastic rack for this purpose – and I can tell you it was a royal pain to install and adjust.
This one by Lynk is the polar opposite; sleek and well-made, yet providing the maximum function.
This unit is designed to sit on the left or the right side of the cabinet under the sink – with a bottom drawer that slides out for easy access to cleaning supplies, this eliminates the headache of rummaging around in the back of the cupboard searching for the extra sponges.
The top shelf of this clever unit features a plastic liner that is ideal for setting wet sponges and sink plugs.
Rounding Out My Favorite Kitchen Storage Ideas: Save Your Skillets
In my kitchen, I am always cautious about my nonstick cookware. My kitchen is not overly small, yet inevitably I end up stacking my pans.
As nonstick cookware scratches easily, I protect each pan by laying a towel between them. This does the trick, but it's not exactly a convenient method – I often have to lift a few pans in the quest for the one I want, and each time carefully replaces the towels.
This rack is my next purchase for rounding out my kitchen organization; made by Rubbermaid, it is a genius solution to this issue.
Designed to sit inside the cupboard, this does not need to be installed (a bonus for folks like myself who are still a little scared of the drill).
It provides a clever high-rise for your quality cookware, giving each pan its own space while leaving all accessible and safe. It would also work well for storing the lids of large pots and pans – another item that often ends up in a messy stack.
Overall, this is a useful kitchen item that promises to be one of those storage ideas you ask yourself "why didn't I buy this sooner?"
In the Kitchen, The Simplest Ideas for Storage and Organization are the Best
One thing to note, when considering items and ideas to help in the organization of your kitchen cabinets and drawers: beware of over-complicated gadgets! The simplest solutions are usually the best, and this holds true in the kitchen cupboard as well.
If you find yourself with a rack of some type that seems over-complicated to install, it is probably not worth your time, and a simpler solution can likely be found.
Remember, you want these components to be flexible enough in their use that you could switch them around within your cabinets as your needs change. So, when it comes to kitchen organization, remember the old adage – simple is best.
After all, is said and done, I guarantee that spending time on kitchen organization is one of the best possible investments of your time. Daily chores and meal preparation are so much more pleasant in a tidy, efficient space. Now go, organize your kitchen! You'll be happy you did – I promise.
While you're at it, if you come across any kitchen storage or organization ideas, I would love to hear them! Please share in the comments so that we can all learn from each other. Sometimes necessity is the mother of invention – I would love to hear what solutions you come up with that work for you, and if you enjoy the task of kitchen organization as much as I do!