Over the 1990s, the elegant hosta experienced what can only be called a revolution from a gardener's perspective. During this period the number of cultivars exploded, with more big ones and tiny ones in foliage colors of white, gold, blue, and green than you could shake a stick at, and every imaginable combination of the above, not to mention the showy flower spikes. Gardeners caught the hosta craze, and before long, every garden had at least one hosta in it.
Let's call that the first revolution, just to give a point of reference for where I'm going to take you with this article. You see, the craze has passed, the hype has faded, and the hosta has matured from a garden fad into a garden staple.
And with the coming of age of the hosta, landscape, and garden designers have progressed from the "one hosta in every garden" phase into a bold new world of landscape applications for this magnificent plant. Yes, the magically versatile hosta has graduated from yesterday's news to the status of the elite designer plant.
These are truly great times if you're a hosta (which you're probably not), but even more so if you're a creative gardener or home landscaper looking for innovative solutions to common landscape challenges. This is where the hosta has found some incredible niches, in places where you'd have never imagined a hosta would belong.
And since the hosta is one of the hardiest perennials we can possibly welcome into our northern home landscapes, then it's imperative that you as a Northscaper are aware of these exciting applications and are ready and able to apply them to your specific challenges.
Over the course of my extensive travels across the North region, I have witnessed many innovative and novel applications of hostas that wouldn't have even been considered a decade ago.
To be honest, some of them took my breath away, and the story simply had to be told. So sit back, relax, and let me introduce you to the brave new world of hostas as first-class landscape elements in some of these applications.
---
---
Groundcovers
Seasoned homeowners know just how difficult it is to get lawns to thrive underneath the shade of larger trees; grass dislikes shade immensely. And yet what choice does one have when it comes to live groundcovers for shady spaces? Well, move over lawns, because the mighty hosta is moving on in!
It turns out that hostas are an ideal solution for this problem that's plagued homeowners and landscape designers alike for years now. Yes, hostas have gained recognition as a highly effective groundcover for those dark, damp parts of the yard where grass fears to grow.
After all, hostas definitely have all the attributes of a great groundcover; they are low maintenance, they spread to varying degrees and will fill in an area, and they look fabulous in masses. And as if that weren't enough, they never need mowing!
So the better designers have now figured this out. The challenge is now to make the average homeowner and gardener aware of this wonderful application of this most versatile plant.
There are so many places they will excel as a groundcover; in a woodland-type setting under a mature stand of trees, on the shady side of a fence or woodlot, or even as a complete lawn replacement for a shady moist part of the yard.
They should have at least some shade or they might burn under the hot sun, and they prefer moisture to dryness. But that's no concern because there's no shortage of effective groundcovers for hot dry sites.
So how does one use hostas as a groundcover? First, make sure the soil is of high quality and well-worked before planting. For groundcover applications, you'll want to plant them close together; a good rule of thumb would be half to three-quarters of their mature spread apart.
Closer means less weeding and a thicker cover but a greater initial expense, while farther apart means a longer period to fill in the area but a better opportunity to showcase their attractive shapes. Water them very well for the first year, and then quite regularly from then on, as they do require more consistent moisture than a lawn.
As a designer, you're going to appreciate the great diversity in sizes and colors available, thanks to the breeding revolution of the past decade. Most garden centers now categorize hostas according to their application, so look for varieties that are listed as groundcovers.
Good groundcover hosts generally spread and tend to be more upright, but the truth is, almost any hosta makes a good groundcover. You can use hostas as small as 2″ above the ground, or as large as 2′ high and even wider; all of these will do the job equally well and can lead to some artistic and even pleasantly unexpected results.
Structural Edging
This is definitely the latest and greatest design trend for hostas. Hard landscape structures (both physically and visually speaking), such as fences, walls, and terraces, look horrible when they abruptly jut out of the ground, their vast surfaces monotonous and, well, just plain flat! They need to be anchored to the ground with an element that softens them and counters their rigid geometric shapes.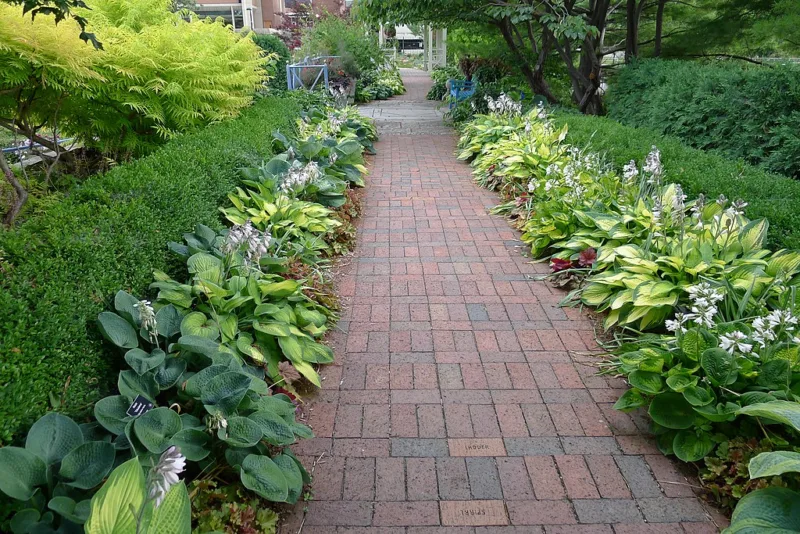 In walk hostas to the rescue to do what they do best, that is to soften hard elements with their arching mounded habits and tantalizingly curved leaves. The trick to using hostas effectively in this application is to use them in long, continuous runs of a single variety, planted relatively close together.
They actually begin to look like a part of the structure itself, but with a softer, more natural feel, which is exactly why they're there.
One particularly effective use is to soften the transition between a hard vertical structure and a hard horizontal structure, especially if both have long continuous surfaces with little or no features. The perfect example is the interface between a flat vertical wall and a flat horizontal sidewalk.
Here's where hostas just seem to shine; their rounded shapes and natural curves are a perfect foil to the harsh surfaces of the wall and sidewalk, tying them to each other with grace and elegance.
They are especially effective when there is very little room between the wall and the sidewalk; smaller hostas need only about 1-1/2 feet of width to properly grow and attain an optimal shape.
Facers
Hostas are amazing plants for facing down leggier plants and structures; it's almost like they were born for this task. Because hostas are dense and visually powerful thanks to their naturally rounded habit with gracefully arching leaves and generally soft, curvy appearance, they can hide bare plant stems and stark elements extremely well.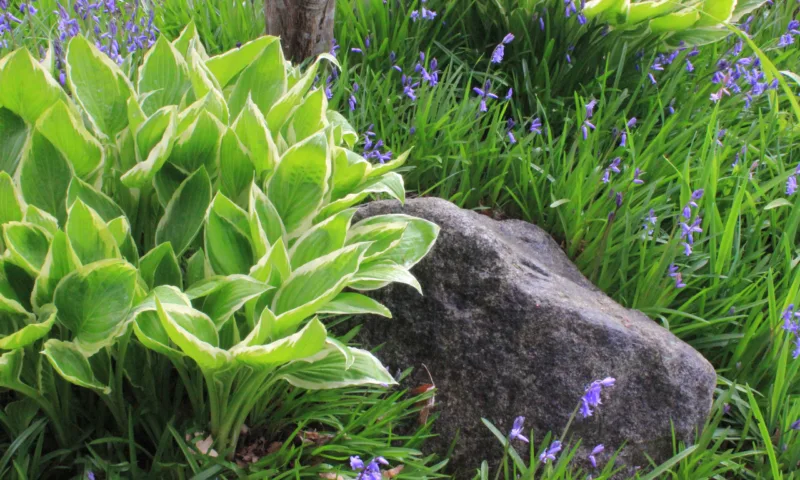 Facer garden design principles are simple and straightforward. Again the amazing diversity of the hosta comes into play here; use the lower-growing varieties to face down low shrubs and the larger bolder varieties to face down taller elements and larger leggy shrubs.
Lamp posts, signposts, gate posts, vertical statuary – these are all ideal candidates to be faced down by hostas.
This is one application where you'll want to give some extra consideration to the color of the hostas. When hostas are used to anchor a feature or accent structure such as a statue or fountain to the ground, you'll want to use more subdued colors such as solid green, or darker colors like blue which blend with the ground well.
In these cases, you are generally wise to stay away from those varieties with showy variegated foliage which might compete with or detract from the feature element.
On the other hand, if you're facing down leggy shrubs such as lilacs, honeysuckles, or forsythias which tend to burst forth with one showy performance for one or two weeks of the year and then fade into oblivion for the rest of the year, then showier hostas can be used complement the performance. Look for bright gold hostas or the boldly variegated types to stand out particularly well.
Streetscaping
I'm not sure if their reputation supports this, but the truth is, hosts are tough plants. In fact, they're tough enough to use in the very toughest of applications, and that's in driveway and boulevard use. Hostas will take it!
Most street plantings tend to be rugged shrubs like mock oranges, yews, and spireas, and rightfully so. The combination of road salt, exhaust fumes, and snowpack can wreak havoc on lesser plants.
As perennials, hostas are well suited to this application, going dormant in winter when snowplows and ice pack from the roads do their worst damage, only to brighten up the scene once again the next summer.
If you're planning a streetside or boulevard planting with hostas, use them towards the front of the border in combination with taller shrubs and other tough perennials such as daylilies. Their colorful foliage will balance the fleeting performances of the shrubs across the entire season.
I'd suggest not using them extensively here though because they will be absent in winter, and you'll not want them leaving too big a hole in the winter landscape.
As for the ideal planting location, again the basic rules of hosta gardening apply; good garden soil, at least some shade, and adequate moisture are the keys to success.
Walkway Borders
I think this is the coolest application of all for Hostas, and it blew me away when I first saw it last year! The concept is to use them to border walkways or sidewalks that wind their way up to steps or doors on buildings.
For years, this has been the domain of annuals and low shrub hedges, but who would have thought that hostas would break through here as well? It's a particularly elegant solution for sidewalks that wind under the deep shade of mature trees or on the north side of tall buildings; this is where hostas really excel.
The idea is so very simple. Just dig up a garden border on either side of the walkway, about 1-1/2 to 2′ wide between the sidewalk and the lawn. The trick is to use the hostas in large enough numbers to make a strong visual impact and in a continuous single row on both sides.
Never mix different varieties unless you know for sure that it will work! You can get creative and intersperse the hostas with other low-growing plants, or break up the hosta rows with the occasional run of perennials or a low hedge – the possibilities are endless.
Here's a super-creative design possibility. Build a walkway border using boldly white-variegated hostas such as the variety "Patriot". Install low-level landscape lighting among the hostas, and watch the magic unfold at night; the white variegation on the leaves will catch the light and reflect it for a luminous night effect. It really works!
* * * * * * * * *
And so there you have it – the second revolution of the hosta, finally maturing as an elite landscape design element. Now that this magnificent plant is no longer relegated to just the garden in your mind, go ahead and explore the possibilities.