I want to take the design possibilities for our outdoor living spaces to another level by exploring the exciting world of double-duty design. This hot new design trend pushes the limits of the way that traditional items function within an open-air environment, and how they can truly transform the way you live and entertain there.
Because this topic is so vast, I'm going to limit the discussion to the sometimes frustrating line between kid spaces and grownup spaces.
If you have kids, know people with kids, or have passed by a yard of someone who has kids, you have likely seen firsthand the chaos that is their outdoor space.
Picture plastic slides and jungle gyms in florescent-colored plastic sandboxes full of toys, perhaps a blow-up pool, and tons of other paraphernalia (bikes, sports equipment, etc.) littered about.
Even yards where the parents have managed to rein in the surging plastic parade with some sort of shed or storage box system tend to have a tell-tale 'we have kids living here' look.
Of course, if you don't mind the chaos, clashing colors, and inability to use your space as a grownup environment, you possess a Zen-like patience that the rest of us can only sit back and envy.
If, however, you desperately long for the time when your children are old enough for you to secretly sneak the offensive pre-fabricated jungle gyms to the nearest charity depot, I'm here to show you that your day just might have come.
Outdoor Double-duty Design has 5 Steps:
1. Stop thinking of your outdoor space as a yard and start looking at it like you would any other room of your house
As with indoor living spaces, outdoor living spaces suffer some common problems. Houses with kids see these issues magnified. Being aware of these problems means you can take full advantage of double-duty design to help solve them. For example;
There isn't enough storage, or the storage isn't easily accessible, so the space is constantly messy or cluttered
There aren't defined spaces for activities, so the space isn't used efficiently
The space doesn't have any specific look or feel to it so it ends up as a repository for all of the things that don't fit in anywhere else (i.e. it becomes a dumping ground of unfinished business)
2. Have a firm grasp of the function(s) and mood of your space
Function:
You need to identify everyone who will be using the space and what each individual would like to use the space for. Don't concern yourself with spatial limitations or other perceived restrictions.
The objective here is to decide what you and your children would like to do in the space and then use these activities to identify specific needs or requirements.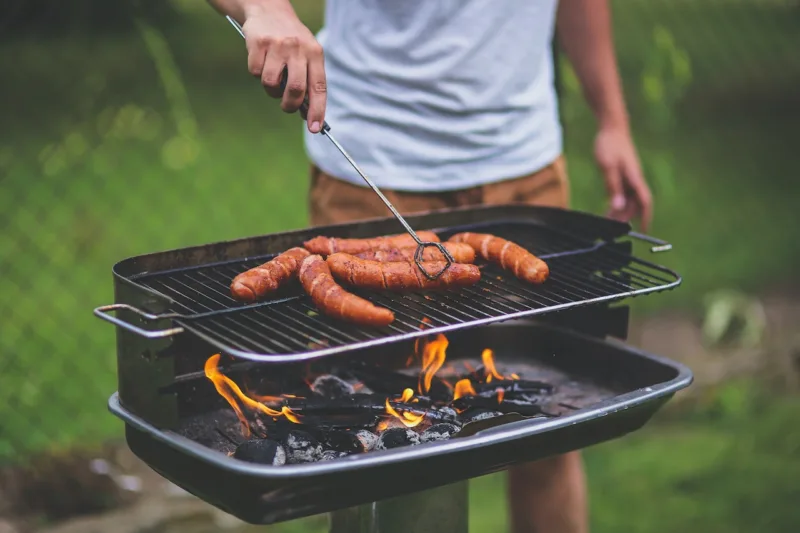 Do you love to cook?
Are you interested in a patio?
Is toy storage an issue?
Are the kids sandbox junkies?
Do you need a swing set or jungle gym?
Do you like to entertain?
Are you a sun-bather?
Do the kids play soccer in the yard?
Do you love to garden but have dangerous gardening equipment?
Do you need places to store lawn maintenance supplies?
Sometimes it helps to think of day and night uses for your area to help identify all of the things you would like to use the space for. Then make a list of each person and each function so you can be sure nothing is missed when you start to brainstorm.
Mood:
The mood is how you want the space to feel when you are in it. This is important for a few reasons – it will dictate how things are initially designed and in what style they are designed, and it will help you decide what accents and furniture you put in the space (Asian influence, modern, country, etc).
In the end, it also provides you with the stylistic direction that keeps you from adding things that are 'out of place' and turning your open-air area into a dumping ground for lost objects and impulse buys.
3. Look for places and items that can be re-purposed or re-designed so that they serve more than one function
This will help save space and will enable you to keep your area looking like a relaxing adult space instead of a teeming pile of toys. For example, a sandbox can be covered at night to provide a pleasant patio for evening entertaining.
A raised flowerbed can be built to include a pathway behind and a detachable slide (so it isn't seen at night) on one end.
Overly bright plastics can be toned down with special made-for-plastics spray paint in a more subdued tone. Patio banquettes built as mobile units are perfect for entertaining and make great storage units.
Likewise, a toy house can also be a tool shed when you build a slide-out wall unit to keep harmful items locked away 'between the walls' where they are easily accessible for adults, but far away from small hands.
A storage unit on wheels, built to withstand the elements, can double up as a drink cart or serving stand. A fence, when built 2 or 3 feet deep and designed properly, can contain a 2-story fort, perfect for older kids to play in, yet easily camouflaged by the landscape.
---
---
4. Look for areas where there is 'lost space' and find interesting ways to integrate storage into them
The key here is to look for anything that can be (safely) gutted, dug under, built on, or re-purposed to provide child-friendly storage for everything from bikes to basketballs.
By taking advantage of the spaces already available and easily accessible in your yard, you'll ensure that you can take care of the clutter in a way that seamlessly integrates into your yard design and still allows you an adult appearance.
As an example, a raised flowerbed with a 'secret' or removable wall can provide an excellent area to store yard clutter. A serving cart can hold more than plates and coffee canisters, it can do double-duty as a garden cart, a toy box, or an outdoor linen chest.
An extra deep, hollow fence can provide kids with a place to put their toys and parents with a place to hang gardening tools, store extra lawn furniture, or stuff last-minute 'uglies' when having guests over.
That beautiful water wall in the corner of the yard can be built on a faux stone pedestal that contains clever storage inside. A deck can provide a secret hiding spot for summer furniture and outdoor toys when built with a locked cellar space underneath (complete with a trap door and staircase down!).
5. Add accents that everyone can enjoy
Fabrics:
Fabrics are critical for setting the mood and tone of a space. They are what will take your decor from drab to fab and give your seating area that 'come over and stay a while' appeal.
Cushions, curtains, and canopies can provide comfort, style, and shade for kids and adults alike. Don't be limited to the mass-produced cushions and canopies offered at many department stores.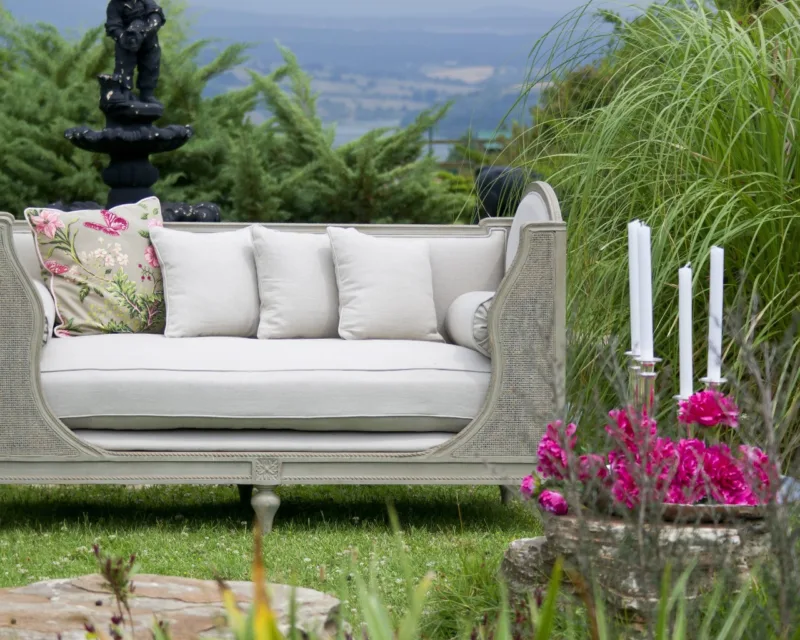 You can weatherproof a wide variety of fabrics using the same techniques and supplies used to waterproof or weatherproof a tent, supplies that are found at most major department or hardware stores.
Outdoor-friendly fabric types in beautiful designs are available at many local fabric stores (ask the clerk for assistance if you don't know much about selecting fabrics) and come in prices to suit all budgets.
Some 'Must-have' Child-to-chic Fabric Accessories:
Reversible pillows
If you have lawn furniture, your children are going to be sitting in it, eating on it, and – yes – spilling things on it. Accept this fact and create some double-sided cushions (adult fabric on one side, kiddie-friendly stuff on the other), or reversible cushion covers (for those of us who don't have the time or handiness required for the full cushion deal).
The covers have the benefit of being able to be tossed in the wash whenever they need to look pristine or whenever Junior accidentally drops ketchup on them.
Canopy curtains
You see these at every SoHo outdoor dining area around. They add elegance and class and really help add an intimate ambiance to a dining area. Creating a curtain is super-easy (in about 15 minutes you can hem the edges of any fabric using hemming tape and an iron –  no sewing required!), and can be attached to the canopy using double-sided Velcro.
The Velcro means the curtains can be taken up or down in a flash – so you can dress up the area however you like – using bright and bold for your kids and sleek and simple for yourself.
Another added bonus of this approach is that you won't have to worry about youngsters playing Tarzan on the curtains as soon as you turn your back. The Velcro will simply tear away as soon as any pressure is added, keeping your loved ones safe and out of harm's way.
Furniture
Make sure you choose furniture that looks 'adult' but is sturdy enough for the youngsters in your life. With the double-duty design, adult furniture can easily be 'codified' by adding double-sided cushions or reversible slipcovers, but your kids can't always be fixed so easily.
Anything that can dent or scratch easily likely isn't a good choice. Nor is anything that will give your kids slivers every time they get on or off of it. Also, look for furniture that you can store things in (side tables are great for this).
Banquettes are a great idea for extra dining seats – they have storage inside and tuck neatly up against the fence, or dress up other areas of your yard when not in use.
Lighting
Make your lighting plan work hard to do double duty – being safe for kids' spaces and adding drama to Mom and Dad's patio party. Don't install anything that is easily broken, tripped over, or tipped.
That means all lighting should be recessed into your landscape elements (walls, etc.) or the ground, bolted down, and/or mounted above the trajectory of small people and their flying toys.
For example, either use low voltage lighting with underground wiring or integrate power boxes into your yard design so that you can easily plug in lights at night and put the cords out of reach during the day.
If you plan to have a lit walkway, use lighting that rests on the ground and has thick, shatter-resistant glass (this will also make it easier for you to mow the grass).
The main thing to remember when double-duty designing is that with a little bit of thought and a dash of creativity, anything can serve more than one purpose, and anyone can have an outdoor living space to die for. So go ahead and start dreaming about your ultimate double-duty design.
Who knows? Maybe you'll be able to take back your yard sooner than you think!