Every spring when growers announce their new plant varieties, gardeners eagerly check out the hot new varieties that have a distinctive look.
Last year the big excitement was centered on the new orange Coneflower (Orange Meadowbrite™ Echinacea).
It was the first ever Echinacea produced with stunning orange color and a wonderful fragrance.
Typically new varieties coming to market are prized for traits like interesting foliage that is variegated or with a different texture or color.
And, according to the director of new plants for Monrovia, Nicholas Staddon, many new varieties have a different growth habit than the species.
"Dwarf varieties are increasingly important, as people are buying larger houses on smaller lots," he explained.
"Yards are smaller and favorite plants with a smaller habit are very popular."
But Staddon emphasizes that there is much more to new plant varieties than just how fabulous they look.
"Our program is focused on new plants to give people greater success in their garden," he said.
"They tend to be hardier and more pest resistant, which is particularly important to the northern gardeners, who are faced with harsh weather."
Here are some new introductions that are well-suited to colder climates:
Abbey Road Great Masterwort
With its striking rich ruby-maroon flowers that are accented with a white base, Abbey Road Great Masterwort (Astrantia major 'Abbey Road' PPAF USDA Cold Zones 4 – 7) is truly one of the prettiest Astrantias available.
This new introduction is noted for its great vigor, its free-flowering trait, and for producing attractive deep green leaves.
It will bloom from early to late summer, reaching 12 to 16 inches with flower stalks being 25 inches tall.
This herbaceous clump-forming perennial prefers moist well-drained rich organic soil in part sun/light shade.
Gold Coast Improved Juniper
(Juniperus x pfitzeriana 'Monsan' PPAF USDA Cold Zones 3 – 9)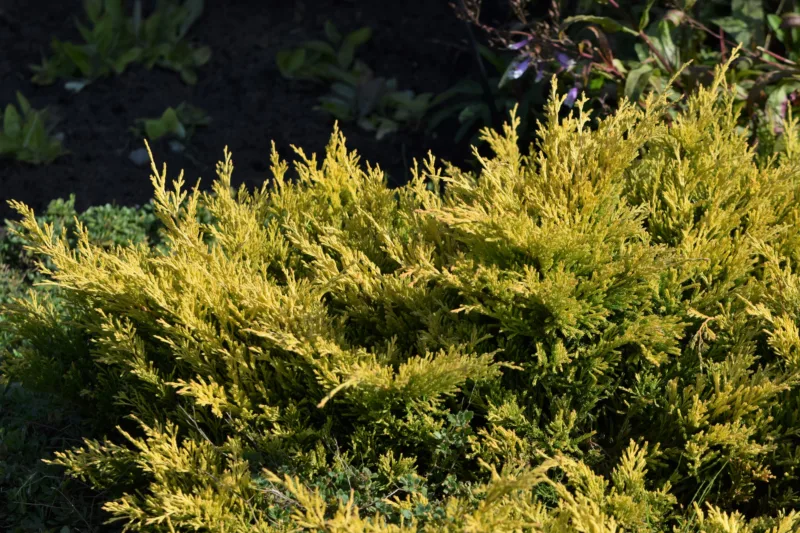 An exclusive Monrovia introduction is an improved version of Gold Coast Juniper.
While maintaining the same great attributes, like lacy foliage and a compact form, it has a brighter and more amazing yellow foliage color.
This dramatic color is retained and deepens in winter better than other gold-tipped varieties.
Excellent choice as a year-round color accent in foundation plantings and conifer beds. Full sun. Moderate grower to three feet tall and four feet wide.
Bud-blooming heathers are prized for their interesting colors and textures and long bloom times.
The first bud-blooming heather was actually the result of a mutation that resulted in the flower buds never opening, first described in the early 1900s.
Monrovia's new Garden Girls® Bud-Blooming Heather Collection
(Calluna vulgaris USDA Cold Zones 5 – 8) comes to us from Germany from a plant breeder who has been hybridizing winter-hardy heathers since 1974.
The buds first appear in early fall and are extremely resilient, remaining colorful well into winter even though frosts and temperatures are as low as 15 degrees F.
All are evergreen. Many make excellent groundcovers, planted 24 inches apart.
They will slowly form a dense mat that is forbidding to most weeds. Requires good drainage and prefers soil that is rich in organic matter.
All cultivars should be trimmed back in the spring. Excellent source of fall and winter color in containers.
Amethyst Scotch Heather
(Calluna vulgaris 'Amethyst' PP #10591) has purplish-crimson buds from August to January.
Dark green foliage. An upright grower with a bushy habit reaches 12 inches tall by 16 inches wide. One of the longest-lasting displays of the series.
Aphrodite Scotch Heather
(Calluna vulgaris 'Aphrodite' PPAF)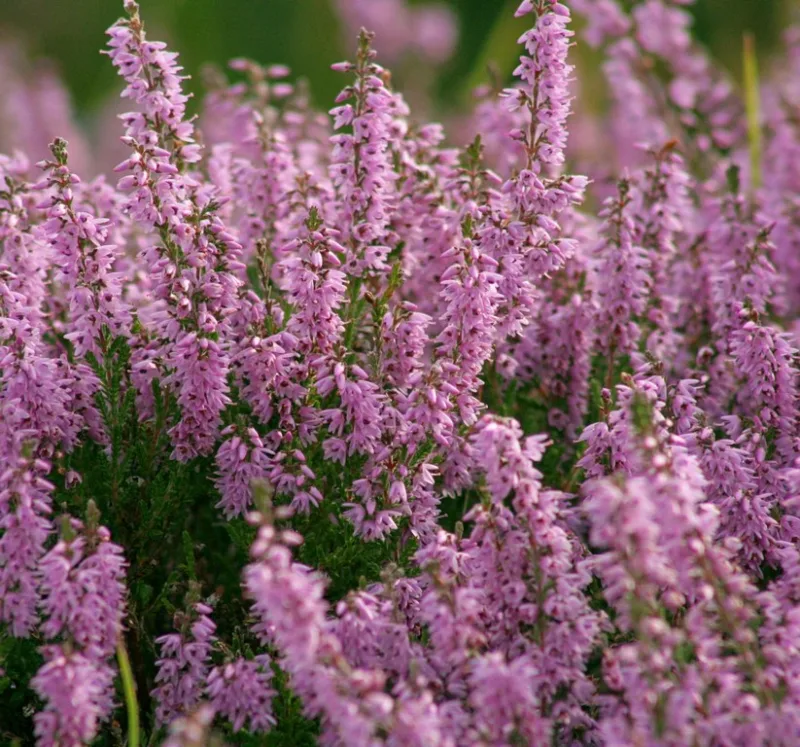 Deep red buds show from August to January. Was discovered as a sport of Amethyst. Dark green foliage, bushy habit with upright growth. Reaches 12 inches tall by 16 inches wide.
Annette Scotch Heather
(Calluna vulgaris 'Annette' PP #10781)
Spectacular clear pink buds last from August to December and retain good color when dried, adding extra value to dried flower arrangements.
Upright growth and bright green foliage provide good cut flower material. Reaches 18 inches tall by 16 inches wide.
Melanie Scotch Heather
(Calluna vulgaris 'Melanie' PPAF)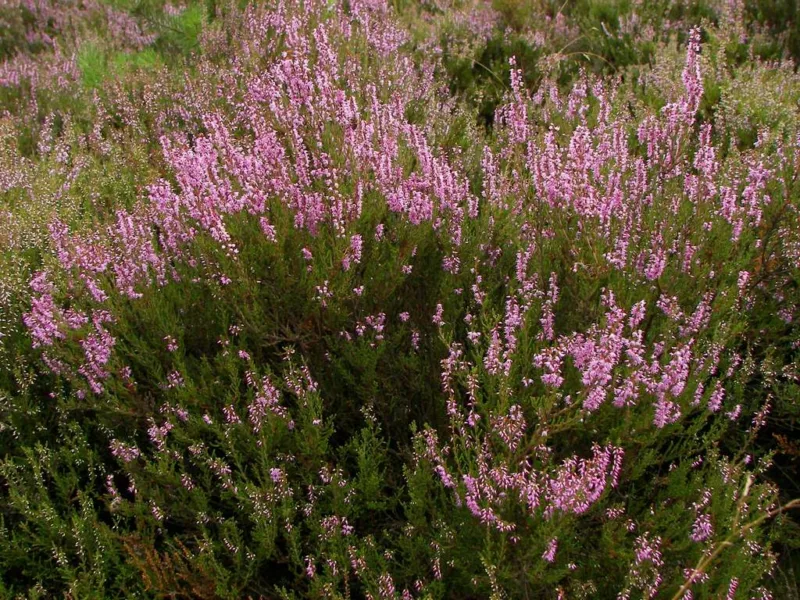 An elongated cluster of white buds occurs from August to November. Dark green foliage. Upright growth is good for cut flowers. Reaches 14 inches tall by 16 inches wide.
Another fantastic new collection features a trio of Snowberries (Symphoricarpos spp., USDA Cold Zones 3 – 7) that come from a breeding program in the Netherlands. Monrovia is proud to be one of the first companies chosen to release some of these special selections into the US market.
Because they were selected for the cut foliage industry, these three new varieties are noted for their berries' increased size, number, and enhanced color.
The vase life for a cut stem is up to three weeks, an ideal choice for gardeners who enjoy growing their own floral bouquets.
These Symphoricarpos are great for attracting birds and other wildlife to the garden.
Ideal for a hedge, border, or as a specimen plant and an excellent selection for gardens, parks, and public green spaces.
All three of these shrubs are vigorous growers, reaching three- to five feet high with an equal spread through underground runners.
They bloom on first-year wood. Symphoricarpos is compact, upright, and graceful with a sturdy arching habit; semi-pendulous with broadly elliptic leaves.
The fruit clusters that appear at the end of the branches are ½ to ¾-inch wide round drupes and persist well into winter after the foliage has fallen off.
Light pruning should be done in early spring as flowers are produced during the current season's growth. Flowers are small and inconspicuous.
Symphoricarpos are native North American, deciduous, woody shrubs that were first improved by G.A.
Doorenbo's breeding work in the 1940s. The native habitat runs from Nova Scotia to Alberta, south to Minnesota and Virginia, and in western North America from Southwestern Alaska to Southern California.
Snowberries are very tolerant of any soil and once established are very resilient to periodic drought. They thrive in the sun or partial shade.
Bright Fantasy™
(Symphoricarpos 'Bokrabright' PPAF) produces crystal-clear white fruit in the fall.
Scarlet Pearl
(Symphoricarpos 'Scarlet Pearl' PP #13244) produces long-lasting dark pink fruit.
Charming Fantasy™
(Symphoricarpos 'Kolcharm' PP #13204) has long-lasting shell-pink fruit.
While definitely not hardy for this region, there are a couple of Monrovia's new tropical plants that can be grown as annuals or in containers to overwinter.
From Fascinating New Guinea comes: Caruba™ Black Good Luck Plant
(Cordyline fruticosa 'Bra01' PPAF USDA Cold Zones 10 – 11), an exciting new black foliage plant, rich in color.
Its flat, strappy leaves are shorter than other Cordylines and its growth more compact, reaching about four to five feet in height.
The vivid shiny purple-black foliage creates garden magic in tropical gardens and sub-tropical areas.
It looks stunning planted en masse in front of a light-colored wall or with contrasting foliage plants.
In tropical and sub-tropical areas, plant in filtered sunlight in the garden for stunning color combinations and foliage contrast.
Caruba is an Anthony Tesselaar International (ATI) exclusive plant that Monrovia is offering in a special pre-release.
Crimson Jewel® Mandevilla
(Mandevilla x amabilis 'Magic Dream' USDA Cold Zones 10 – 11) is a show-stopping introduction. It is one of the reddest Mandevillas on the market.
A vigorous tropical evergreen vine with dark green glossy oval foliage and fascinating flowers that open a deep crimson and slowly fade to deep fuchsia.
Will bloom year-long in warm climates or is excellent as a container plant in Northern regions as annual color.
Full sun. Vigorous twining growth reaches 15 – 20 feet.