In the quest to create our optimal outdoor living spaces, how often do we describe the foliage color of a particular plant as simply "green"? When it comes to designing with color, we bring out the sledgehammer and apply blatantly distinctive colors as accents and ornamentation in a composition, wholly ignoring the subtleties that exist under the umbrella we dismiss as "green" with a single wave of the hand.
For too many of us, green is nondescript, the color implicit in foliage and therefore the most ubiquitous of backgrounds. The truth be known, there are nearly as many shades of green in our palette as there are other colors.
Our eyes are able to perceive a stunning variety of colors under this banner of green. Sure, certain shades of green make the ideal backdrop against which a composition can perform, but how often do we actually think of green as a feature in a composition, an integral player in the dance of interest we seek to create?
The finest masters of garden design and landscape architecture are intimately familiar with the myriad tones, shades, and hues to be found in the palette of green.
To these most enviable artists, green isn't simply the default color of foliage and background, but rather a complex and diverse collection of colors that evoke a wide range of responses, emotions, and sensibilities.
They appreciate the subtleties of compositions based on the many shades of green and use them to their fullest advantage.
Since you, the conscientious Northscaper, aspire to achieve the same heights of artistry in your own northern landscape, it is imperative that we devote an entire article to this most magical and fundamental of colors, the foundation of our compositions and yet a performer in its own right.
Let's boldly venture forth into the wonderful world of color and explore the many shades of green.
From the designer's perspective, "green" is a wonderfully complex grouping of colors. True green lies at the center, a readily identifiable color that underlies the richness found in the vast forests and grasslands that cover our earth, that paints our lawns, and that anchors our gardens.
From this base color, greens can be made lighter and darker, richer or less distinctive, and can take on hues that begin to suggest a shift away from this center point we call green.
The best way to understand the many shades of green is to examine each of these deviations in detail.
---
---
Like Night and Day
The human eye readily perceives differences in the lightness and darkness of individual colors. Lighter colors tend to be soft and inviting, becoming pastels as the lightness increases towards pure white.
Darker colors form a foundation against which the lighter colors are measured, eventually becoming the background for the lighter and brighter shades as they darken towards black.
In between, we can perceive an enormous range of shades, rendering this one of the most powerful variables we have at our disposal as designers.
True lighter greens that don't tend towards other hues are relatively uncommon in the foliage of garden plants, which makes them all the more perceptible.
Not only do they stand apart on their own merits, but they will make almost all other colors look richer and darker. Light greens are particularly impressive in a mass planting, radiating their color from the early morning through the heat of the day and into the late evening.
Many plants burst forth with light green foliage in spring which darkens as it matures, an effect that can be used to introduce seasonal dynamics into a landscape composition.
But precious few retain their light green foliage through to the autumnal display. Examples of these are yellowwood (Cladrastis lutea) in the realm of trees and six-row stonecrop (Sedum selskianum) as a groundcover.
Dark greens are much easier to come by and almost always constitute the background against which all the ornamental attributes and features of other plants are put to display.
They are therefore the backbone of a composition, an important attribute of the backdrop of trees, tall shrubs, and back-border perennials. When used in the foreground of a composition they tend "not" to be seen, enhancing almost all other shades of green, along with most other colors.
There's no point mentioning specific plant varieties here, as most gardeners won't have to expend much effort locating dark green plants!
From Drabs to Richness
Green shades can vary in saturation, which is a technical way of saying the "richness" of the color. Saturated colors are bright, rich, and positively emotive, while desaturated colors diminish into the ether, eventually losing their resemblance to any one color in particular, becoming a colorless shade of gray in the ultimate incarnation.
These two extremes are emotionally powerful and can be used to set the tone and feel of a composition.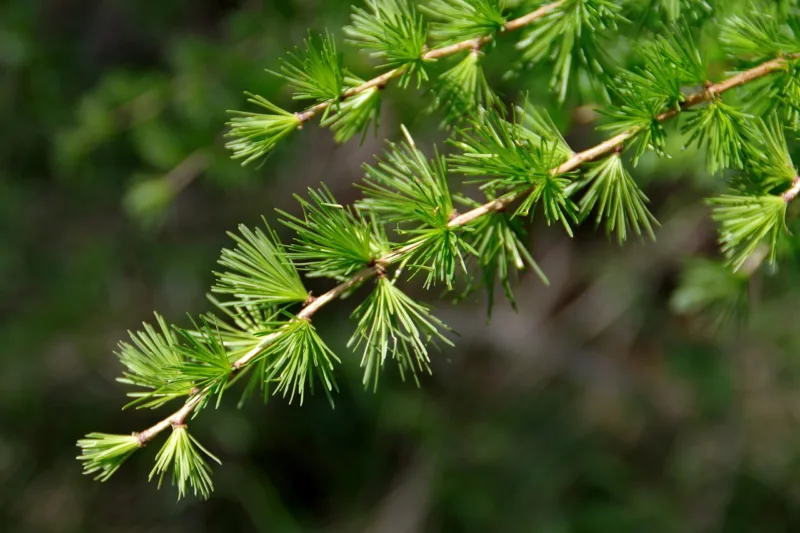 Highly saturated greens are like bright beacons in the landscape, standing out and commanding the attention of the observer. Rich greens evoke memories of spring and early summer, when everything looks bright and fresh, untarnished by the disparaging hands of time.
That's why plants which retain these shades of green all season long are so vivid in contrast to the dullness of late fall and early winter and against the colorless uniformity of a snowy scene.
Almost all plants are a rich green with the newness of spring, but few hold this degree of saturation throughout the season, and even fewer through winter. Evergreens of the richest greens which hold their color through winter are the ultimate foil to monotony, ever reminding of the promise of spring.
True green Colorado spruces (Picea pungens) are hard to find but well worth the effort, of coloring any winter scene. Some upright juniper varieties such as Cologreen (Juniperus scopulorum 'Cologreen') are similarly effective on a smaller scale.
Desaturated greens fall on the opposite end of the spectrum in every sense. They are shady, dusty, mysterious, and noncommittal. They will soften a rich composition but will fade to obscurity in the off-season.
Their tendency towards gray is quite perceptible in full sunlight but becomes complex and mysterious in the shade and low light. They should thus be used sparingly and intentionally.
No plants are more gray-green than the ubiquitous and hardy cinquefoil (Potentilla fruticosa cv.), with some varieties among the most desaturated of all plants. Certain upright and spreading junipers (Juniperus spp.) are equally as dusty, along with perennials such as yarrow (Achillea spp.).
Greens That Lean
Green itself is a fundamental and true color, but the real power of green in composition comes when it begins to shift ever so slightly toward either of its neighboring colors, without explicitly becoming one of these colors.
In the technical lingo, this is known as its "hue", and it marks the point where the color itself is no longer distinctively green, but rather suggests the presence of other colors in the mix.
In reality, most of the greens we find in foliage are not true green, but rather a blend of green with other hues, which lend a distinctive effect and tone to the resultant color.
At one side of the color spectrum, green leans towards its "hotter" neighbor, yellow. As green undergoes this shift towards chartreuse, the perfect 50-50 mix of the two colors, it passes through a dazzling array of subtly different hues that we often perceive only subconsciously.
The resultant colors appear to warm up, seeming cheerier and fresher than true green. In full sun, these changes are less perceptible until they are juxtaposed against other hues and shades of green, at which point their contributions are fully realized.
In low light, though, they are wonderfully evocative and complex, one of the most powerful weapons in a designer's arsenal.
But combine this yellow shift with the other variables of shade, and the result is a virtual plethora of color tones and effects. Olive is a beautiful and distinctive shade of green that leans to yellow but is darker and less saturated.
Lime green is the shade that results when yellow-green is highly saturated and bright. Many plants with "golden" foliage actually fade out to chartreuse as the season progresses. As you can see, this is a region where designers have free reign to play.
On the other end of the spectrum, green blends into blue. This neighbor is "cooler" and moodier than true green, and both darkens and distinguishes the resultant color as it is introduced.
Here we find the colors of elements like sky, water, and steel, strong and determined but without passing judgment. Again, when combined with variations in saturation and lightness, the result is an enormous palette of colors that are relatively common in many plants, and which are invaluable in a dynamic and complex composition.
Rich blue-greens are wonderful to behold, a distinctive color unto themselves. Bright blue greens become aquamarine, a color that is surprisingly rare in plants, although leanings can be found in many junipers and other tonal evergreens.
Dark blue-greens are far more subtle and thus steer a composition towards mystery and intrigue, while desaturated blue-greens are reminiscent of silver and steel gray, lost in a sunny location but almost iridescent in the evening garden. Numerous hostas (Hosta spp.) play in both the blue-green and yellow-green hues, along with many varieties of juniper.
Creative Combinations of Greens
As you can see, when it comes to plants, green isn't one single color but rather an entire world of colors. These various shades and tones can be nearly imperceptible when they stand alone, but truly burst forth into life when contrasted against each other.
It's in such mixed compositions where the various shades become distinct colors unto themselves, and it's a place where the most creative designers let their imaginations run free!
As with any interplay of colors, certain combinations of the various greens are particularly effective, while others will clash and trouble the eye.
In general, the opposites of light and dark play well set off against each other, the opposite hues of chartreuse and blue-green don't mix well at all, and when combined the opposites of rich greens and desaturated greens are interesting in a complicated way.
Cross-combinations and hybrids of the above are truly the realms of the artistic designer, with some combinations highly effective and others almost disturbing.
For example, dusty blue-greens are incredibly effective when set off against a rich dark green background. On the other hand, a rich lime green is entirely offensive juxtaposed against a dark desaturated bluish-green.
There are no rules here, only the masterful eye of the designer that is able to discern the winning combinations from the losers.
Regardless, it is imperative that you as a garden or landscape designer fully appreciate the many shades of green, at the very least to acknowledge their contribution to composition, and hopefully to use them creatively. Remember, few plants are simply "green"!