Are you ready to make your outdoor space a beautiful oasis? With the right décor, you can create a fresh and inviting atmosphere that will make you never want to leave. Whether you have a cozy balcony, a spacious patio, or a lush garden, we've got 25 stunning outdoor décor ideas that will inspire you to transform your space.
Transform Your Outdoor Space with These Beautiful Décor Ideas
1. Cozy Seating Area
Create a cozy seating area with comfortable outdoor furniture. Opt for plush cushions in vibrant colors to add a pop of personality. Place a stylish coffee table in the center and add some lanterns or candles for a touch of romance.
2. Vertical Garden
Bring nature to your outdoor space with a vertical garden. Use trellises or hanging planters to showcase a variety of beautiful flowers and plants. Not only will it add a stunning visual element, but it will also create a sense of tranquility.
3. Outdoor Rug
Add warmth and style to your outdoor space with an outdoor rug. Choose a rug that complements your furniture and overall design theme. This simple addition will instantly transform your space into a cozy and inviting retreat.
4. Hanging Lights
Create a magical ambiance with hanging lights. From string lights to lanterns, there are plenty of options to choose from. Hang them above your seating area or along a pathway to create a magical and romantic atmosphere.
5. Fire Pit
Add a cozy and functional element to your outdoor space with a fire pit. Gather around the fire with friends and family and enjoy the warmth and comfort it provides. You can even roast marshmallows and make s'mores for a fun and delicious experience.
6. Outdoor Bar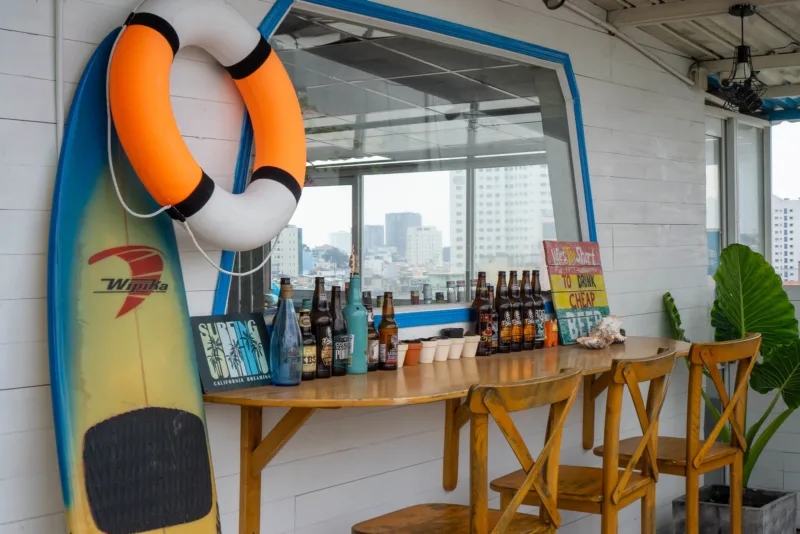 Create your own outdoor bar and enjoy drinks under the sun. Install a bar counter and stock it with your favorite beverages. You can even add some bar stools for a complete and stylish setup.
7. Hanging Swing
Add a touch of whimsy with a hanging swing. Whether you hang it from a tree or a pergola, a swing will instantly add charm and relaxation to your outdoor space. Curl up with a good book or simply enjoy the gentle sway.
8. DIY Planters
Get creative and make your own planters. Repurpose old crates, tin cans, or even tires to create unique and eye-catching planters. Fill them with your favorite flowers and herbs for a personal touch.
9. Outdoor Curtains
Add privacy and style with outdoor curtains. Hang them around your seating area or create a canopy effect. Choose a light and flowing fabric to create a sense of elegance and sophistication.
10. Outdoor Art
Turn your outdoor space into a gallery with outdoor art. Hang paintings, sculptures, or even create your own mural. Art will not only add visual interest but also reflect your personal style.
11. Outdoor Dining Area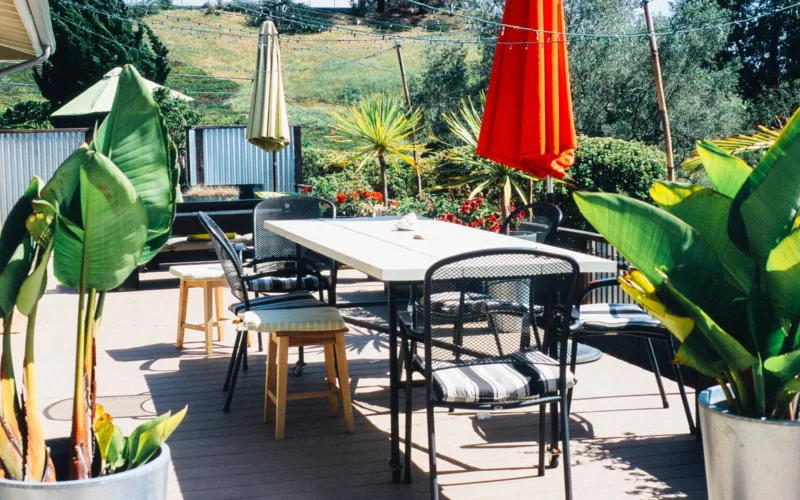 Create a beautiful outdoor dining area for al fresco meals. Invest in a stylish dining table and chairs that can withstand the elements. Set the table with colorful tableware and enjoy meals surrounded by nature.
12. Water Feature
Add a sense of tranquility with a water feature. Whether it's a small fountain or a pond, the sound of flowing water will create a soothing and peaceful atmosphere.
13. Outdoor Shower
Create your own outdoor oasis with an outdoor shower. Install a showerhead and surround it with lush plants for a tropical feel. It's a refreshing and luxurious addition to any outdoor space.
14. Hammock
Indulge in relaxation with a hammock. Hang it between two trees or purchase a freestanding hammock. Lie back, close your eyes, and let the gentle swaying lull you into a state of pure bliss.
15. Pergola
Create a shaded retreat with a pergola. Plant vines or hang curtains for added privacy and style. Add some comfortable seating and enjoy the cool shade on a hot summer day.
16. Outdoor Movie Theater
Turn your outdoor space into a movie theater. Hang a white sheet or use a projector screen and set up comfortable seating. Grab some popcorn and enjoy a movie under the stars.
17. Outdoor Kitchen
Take your cooking outdoors with an outdoor kitchen. Install a grill, sink, and countertop for a complete cooking experience. Enjoy preparing meals while enjoying the fresh air and beautiful surroundings.
18. Outdoor Games
Add some fun and entertainment with outdoor games. Set up a cornhole, bocce ball, or even a mini golf course. Challenge your friends and family to a friendly competition.
19. Hanging Planters
Create a vertical garden with hanging planters. Hang them from your pergola or balcony railing to bring a touch of greenery to your space. Mix different types of plants for a vibrant and dynamic look.
20. Outdoor Chandelier
Add a touch of elegance with an outdoor chandelier. Hang it above your dining area or seating area for a glamorous and sophisticated look. Choose a chandelier that is weatherproof to withstand the outdoor elements.
21. Outdoor Bar Cart
Bring the party outdoors with an outdoor bar cart. Stock it with your favorite beverages, glassware, and mixers. Roll it around your outdoor space and enjoy drinks wherever the party takes you.
22. Vegetable Garden
Grow your own vegetables with a vegetable garden. Plant your favorite vegetables and herbs and enjoy the satisfaction of eating fresh and organic produce from your own backyard.
23. Outdoor Lounge Bed
Create a luxurious and relaxing outdoor lounge bed. Invest in comfortable outdoor mattresses and plush pillows. Surround it with curtains or a canopy for a touch of privacy and romance.
24. Outdoor Yoga Space
Create a serene space for outdoor yoga and meditation. Lay down some yoga mats and surround the area with candles or incense. Connect with nature and find your inner peace.
25. Colorful Planters
Add a vibrant touch with colorful planters. Choose planters in different shapes, sizes, and colors to create a playful and fun atmosphere. Fill them with your favorite flowers and watch your outdoor space come to life.
With these 25 beautiful outdoor décor ideas, you can create a fresh and inviting space that you'll never want to leave. Get inspired, get creative, and transform your outdoor oasis into a stunning retreat.