In the first part of this two-part article, we examined how to grow grapes in a northern climate (click here to view the first article in this series).
In this article, we'll discuss ways to enjoy the pleasures of your grape harvest and look at a few of the more popular varieties for northern yards and gardens.
As you have seen, it is entirely possible to grow grapes in the North, both for their ornamental value as vines in the landscape and for their delicious fruit.
With the right amount of heat, sufficient winter protection if the varieties are not quite hardy, and a good trellising structure, you should have abundant grapes to enjoy year after year.
The only questions left are how to harvest your grapes, what to do with them, and which varieties are best for your specific location.
Savoring The Fruits Of Your Labors
While grapes make wonderful ornamentals, there's no question that you can only enjoy them to the fullest if you are able to reap the bountiful harvest that they are capable of producing.
Because grapes are naturally long-season plants that need lots of heating degree days (a general measure of how much heat they get over the summer) to ripen a crop, one of the challenges in the North is our short growing seasons; the grapes must be able to mature before frost takes its toll in fall.
The first way to overcome a short growing season is to select hardy varieties that have been developed to mature faster than the warmer season grapes.
Many northern grape enthusiasts are despondent to find out years later that while their grapes are hardy and able to survive with whatever degree of winter protection, they are still not able to ripen in time to actually produce an edible crop.
Other than maximizing heating units through microclimate, there's not much more a gardener can do to force a long-season variety to produce in a short-season climate, so know what you're planting.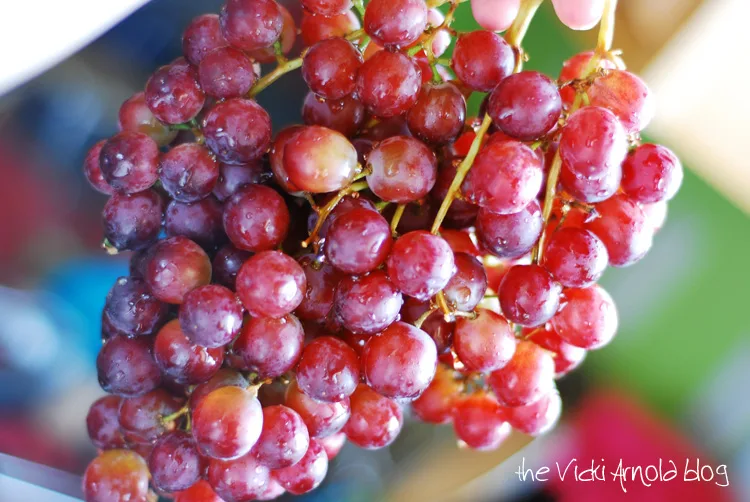 Even with the hardiest of varieties, you're probably going to be leaving the grapes to ripen on the vine well into early fall, often as close to the first-killing frost as you can possibly get.
Grapes will only ripen on the vine, and must at least make it to the stage of natural ripeness before they are harvested, or they will be very bitter and unpalatable.
To test for ripeness, first watch for the color shift that occurs as they turn from green to their final color.
But color alone is not a reliable indicator of ripeness; in fact, they change color well before they are ripe.
You'll want to taste-test the grapes as they mature until they are very juicy and sweet.
If left beyond their optimal ripening point, they will continue the process right through until frost terminates the growth and ceases all ripening, increasing in sweetness and juiciness.
But a hard freeze will destroy both the texture and the flavor, so be cautious as the season creeps into fall.
There are so many things to do with the grapes we can grow in the North.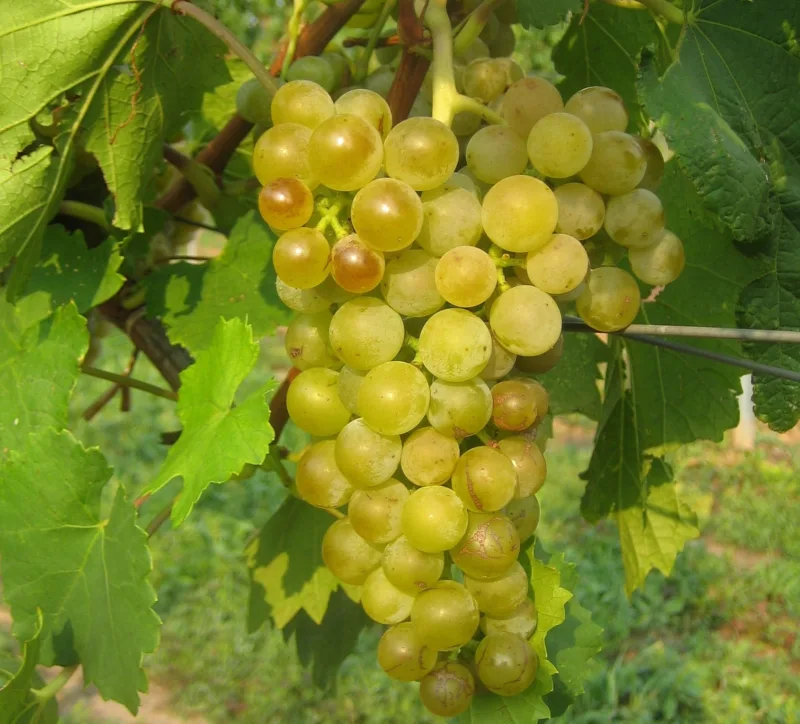 Many varieties make spectacular jams and jellies, particularly those with Concord parentage (Concord is the ultimate jelly and juice grape).
If you get enough grapes, you can always make wonderful grape juice from either the red or the white grapes.
Many varieties are excellent for fresh eating, with flavorful juicy pulp and slightly more tart skins.
However, seeds are always an issue, as there are no seedless varieties that are recommended for growing in the North even with protection.
And of course, grapes can be used to make wine.
However, to obtain a wine of any quality, the grapes need to be of the highest quality, and the non-vineyard parentage of most northern varieties renders them too acidic and harsh for winemaking, with either too low or too high sugar content.
To make decent wines, they need to be blended, de-acidified and have sugar added.
Thankfully, new varieties have been developed which are optimized for wine production, and which are reliably hardy in some parts of the North.
So yes, it's now true – we can actually make our own northern wines!
Some Hardy Grape Varieties
There are many species of grapes around the world, but only a few comprise the primary wine, table (eating), and jelly/juice grapes.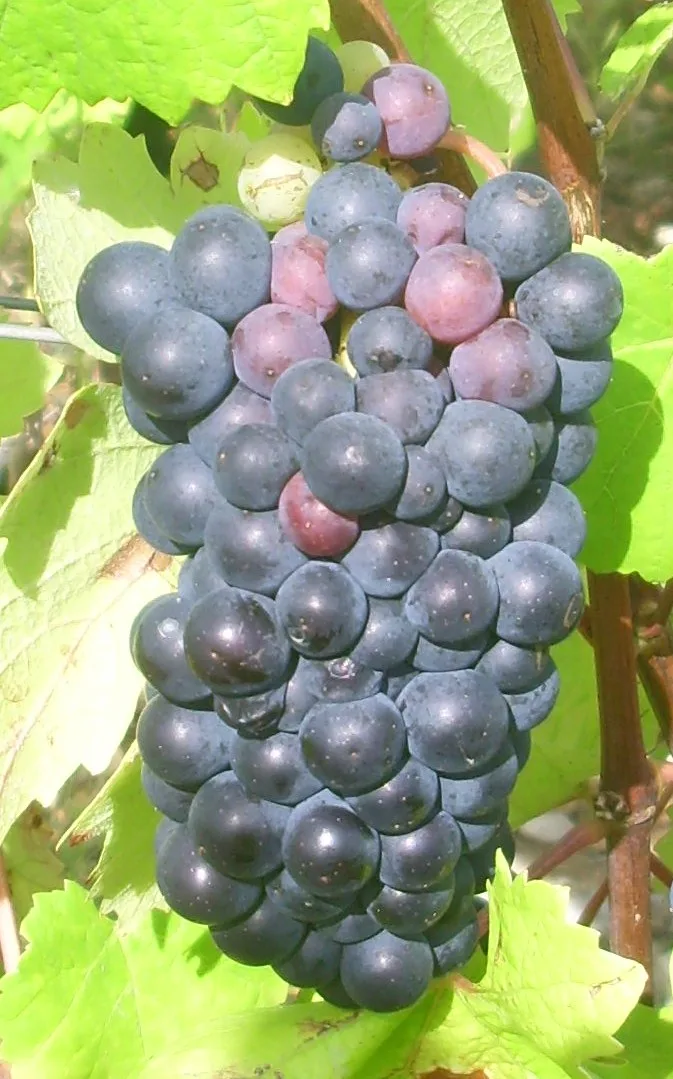 And of these, almost all are cultivated varieties and hybrids, selected for their various fine flavors and colors.
Unfortunately, pretty well all of these species and their cultivars are simply not reliably hardy anywhere in the North, save for the warmest of zones (some in zone 5).
But observant plant developers noted that we have a very hardy grape that grows along the river banks across much of the eastern half of northern North America.
While the fruit is very small and quite unpalatable, it certainly made for a great stock from which to breed hardiness into these tastier "Southern" varieties.
And so that's exactly what they did!
As a result, most of the hardy grapes for the North are crosses of the popular but non-hardy wine, table, and jelly grapes with our native riverbank grape (Vitis riparia).
Recently, developers have been hybridizing with other hardy varieties such as the Amur grape, the sister to our riverbank grape from northern China and Russia.
Many newer varieties are also back-crosses between some of these earlier hybrids and the choice grapes, with more and more improved varieties appearing all the time.
And time has revealed the hardiest of the European hybrids which can survive in the North.
Here are only a few of the more popular or noteworthy varieties for northern gardens, arranged by their coldest hardiness zone.
Note that all will perform well in warmer zones than listed.
For Zone 3 and warmer:
Beta – The original hardy grape, a cross between Concord and the native North American riverbank grape.
Reliably hardy and quite productive, with deep purple fruit with a dark reddish-purple juice.
The sweet, pungently flavorful fruit is ideal for jams, jellies, and juice; decent for fresh eating, but definitely not a good choice for winemaking.
Valiant – A significant improvement on Beta, and as a result, it is becoming more and more popular. Vines are similarly hardy, but the fruit ripens a little earlier.
This is undoubtedly the best cold-hardy grape that can be grown anywhere in the North, so if you're going to try a grape and you have any doubts, try this one first.
Useful for everything that Beta is good for, with similar flavor and color.
Morden 9703 (S16) – A recently introduced (and as of yet unnamed) hybrid from Eastern Europe, this is undoubtedly the hardiest green table grape you'll find.
Produces absolutely enormous clusters of large green grapes that are incredible for fresh eating, especially if left to ripen on the vine into fall – these will rival any table grapes you'll find in the store!
Hard to find in the trade. Marginally hardy in zone 3 – may need some winter protection.
Atcan (Morden 9708) – An exciting new blush (rose) grape hybrid from Eastern Europe that is surprisingly hardy.
Smallish fruit is produced on small clusters, and is good for white grape juice, fresh eating if left to ripen on the vine long enough, and may possibly make a good wine.
Hard to find in the trade. Marginally hardy in zone 3 – may need some winter protection.
For Zone 4 and warmer:
Minnesota 78 – Another hybrid based on Beta, this is a vast improvement on Beta in terms of flavor, but with the tradeoff that this variety is definitely less hardy.
Produces an abundance of large dark purple fruit with a powdery blue blush.
The finest blue grape for fresh eating with a pleasantly sweet flavor makes a delightful jam or jelly, and excellent purple grape juice.
Definitely not a wine grape.
Frontenac – The first true wine grape that's hardy in the North, this is a complex hybrid developed by the University of Minnesota specifically for winemaking.
The purple-blue fruit is quite tiny, typical of most wine grapes, but is produced in unbelievable quantities in massive clusters which literally weigh down the vine.
Produces an excellent red wine where the season is long enough to mature the fruit, and also makes a distinctive purple jelly.
LaCrescent – A recent introduction from the University of Minnesota, this is a golden-white grape that has been bred for its winemaking qualities, rendering a delicious white semi-sweet to sweet wine.
It also ripens relatively early but is susceptible to a couple of diseases that can afflict grapes.
Edelweiss – One of the hardiest and most disease-resistant of the "white" grapes, this Elmer Swenson release produces lots of highly flavorful golden fruit that makes a delicious sweet white wine and is highly regarded as a table grape.
It is recommended not to let it over-ripen on the vine, or it loses its flavor.
Swenson Red – A true red table grape, one of the finest northern grapes for fresh eating.
Produces loads of large red-tinted fruit with clear flesh, very sweet and tasty, not to mention crunchy! Marginally hardy in zone 4 – may need some winter protection, and is susceptible to powdery mildew.
Marechal Foch – A French hybrid (developed in the US) that has proven to be quite hardy, although it often needs protection even in zone 4 to produce reliable crops.
The small fruit is almost black and can be used to make a very good wine.
Kay Gray – A white (green) table grape of the highest quality, this variety is great for fresh eating, white grape juice, and is reputed to make a good white wine.
Has a wonderful, restrained taste with no hint of the wild grape flavor. Not known to be highly productive, though.
Marginally hardy in zone 4 – may need some winter protection.
For Zone 5 and warmer:
While there are many varieties of grapes that are reliably hardy in zone 5 and warmer, here are a few of the more noteworthy or popular;
Concord – The definitive juice and jelly grape, the one you find in all the commercial purple juices and confections in the stores.
Also spectacular for fresh eating where it can fully ripen. Don't bother trying to make wine with this grape – it is too sweet and far too flavorful.
Fredonia – A slightly hardier version of Concord developed in upstate New York with similar characteristics to Concord, except that it ripens a little earlier.
Best used for juice, jelly, and jam, or for fresh eating; a little too potent for wines.
Gewurztraminer – One of the hardiest of the commercial white wine grapes, makes a rich full-bodied wine with a spicy hint to the flavor and a bold aroma.
The fruit is golden green with a reddish blush. Very productive.
Niagara – Probably the most popular of the green table grapes in the northern regions of the United States and Canada with lots of flavor and character.
Used commercially for white grape juice, and can also make a good jam or jelly, but not known for its wine qualities.
Catawba – Another very popular variety in moderate northern climates, this is a tasty and extremely sweet red-skinned grape that can be used to make sweet or sparkling wines.
Often late to ripen, so only for more temperate areas with long growing seasons.
Click here to view the first article of the series.