Are you looking to give your kitchen a fresh and modern look? Look no further! In this blog post, we will explore the top 10 popular kitchen design trends that are taking the world by storm. From sleek and minimalist designs to bold and colorful accents, these trends are sure to inspire and transform your kitchen into a stylish and functional space.
1. Open Shelving
Open shelving is a trend that has gained immense popularity in recent years. It not only adds a touch of elegance to your kitchen but also provides a practical storage solution. Display your beautiful dinnerware and cookbooks on these open shelves, giving your kitchen a personalized and inviting feel.
2. Two-Tone Cabinets
Gone are the days of monochromatic kitchen cabinets. Two-tone cabinets are all the rage now. Mix and match different colors or finishes to create a unique and eye-catching look. Pair light-colored upper cabinets with darker lower cabinets for a striking contrast.
3. Statement Lighting
Add a touch of glamour to your kitchen with statement lighting. Whether it's a stunning chandelier above the dining area or pendant lights over the kitchen island, these fixtures not only provide ample lighting but also serve as a focal point in your kitchen.
4. Smart Appliances
Upgrade your kitchen with smart appliances that make your life easier. From voice-controlled ovens to refrigerators with built-in cameras, these high-tech gadgets are designed to streamline your cooking experience and add a futuristic touch to your kitchen.
5. Bold Backsplashes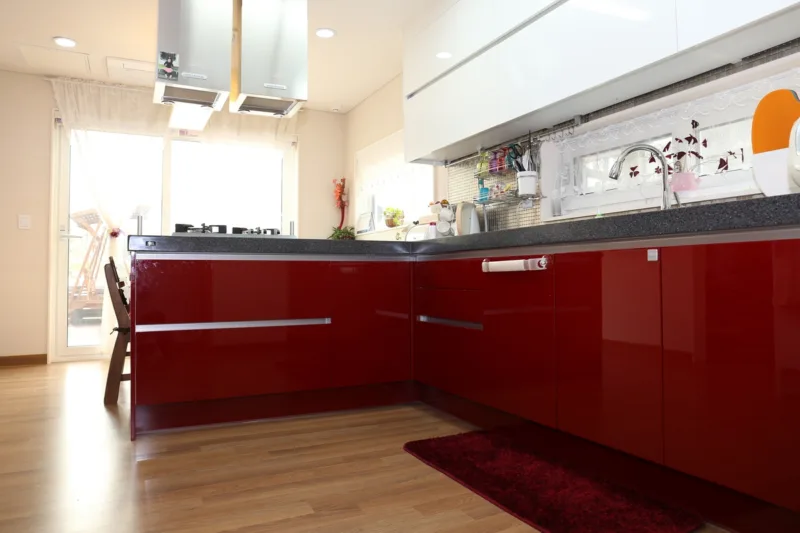 Gone are the days of plain and boring backsplashes. Make a statement with bold and colorful tiles that add personality and style to your kitchen. From geometric patterns to intricate designs, the options are endless.
Maximize your kitchen's storage potential with hidden storage solutions. From pull-out pantry shelves to hidden drawers, these clever storage options help you keep your kitchen organized and clutter-free.
7. Minimalist Design
Less is more when it comes to kitchen design. Embrace the minimalist trend by opting for clean lines, simple color palettes, and clutter-free countertops. This sleek and modern design aesthetic will give your kitchen a timeless appeal.
8. Matte Finishes
Say goodbye to shiny surfaces and hello to matte finishes. Matte appliances, countertops, and cabinets are gaining popularity for their understated elegance and resistance to fingerprints and smudges. They add a touch of sophistication to any kitchen.
9. Farmhouse Style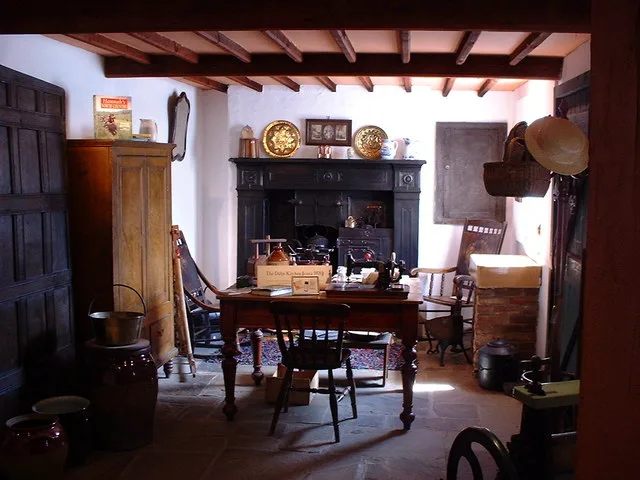 The farmhouse style has been a favorite among homeowners for its cozy and rustic charm. Incorporate farmhouse elements such as apron-front sinks, open shelving, and shiplap walls to create a warm and inviting kitchen.
10. Sustainable Materials
With the increasing focus on sustainability, using eco-friendly materials in kitchen design is becoming more popular. Opt for recycled or reclaimed materials for countertops, flooring, and cabinetry to create an eco-conscious and stylish kitchen.
Conclusion
Whether you prefer a sleek and modern kitchen or a cozy farmhouse-inspired space, these popular kitchen design trends are sure to inspire you. From open shelving to smart appliances, there are endless possibilities to transform your kitchen into a stylish and functional space. So, go ahead and give your kitchen the makeover it deserves!